We live in a world where people enjoy getting out and going into the woods for fun and camping almost as much as they enjoy spending time in their technology-based homes. It is a time when we want to encourage our children to get up off the couch and enjoy the world around them. For that reason, it should not come as a surprise that people are discovering the joy of taking the sound to the woods with them using portable speakers. It is the easiest way to enjoy both worlds and ensures that children enjoy the outing as well, especially if the tunes they love are coming from a four-wheeler.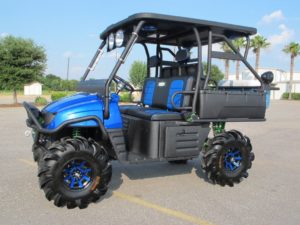 Enjoy the Great Outdoors by Adding Music
It may seem silly to think that by adding music, the outdoors becomes more fun. However, it is true. That is why so many people have opted to put speakers on their 4 wheelers and their golf carts. Music is relaxing, no matter which type of songs you enjoy. They can turn any event into something that is more fun for everyone. They are ideal for camping trips and any other time you are getting outside. That is why these speakers are designed to be completely portable and most are easy to install.
Features of 4-Wheeler Speakers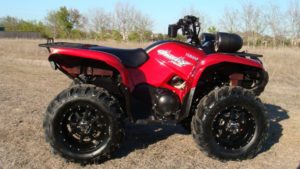 Most people have a specific idea of what good four wheeler speakers should be like. First and foremost, people want them to be small and portable. Boss Audio Systems makes one of the most popular ATV and UTV speakers. Beyond that, they like them to be able to handle all types of climate, even rain, and they want them to be able to hold up against vibrations. That is why many portable speakers will mention that they are ideal for ATV and marine usage. Those are two very extreme environments that will test the ability of all speakers. You should consider choosing the most portable and rugged speakers that you can afford. Once you have chosen them, you will have to decide whether you want to connect them permanently to your four-wheeler or if you want them to remain portable enough that you can move them from your four-wheeler and to your golf cart or other
Installing Your ATV Speakers
Most portable speakers are simple to use. All they require is a power supply, which may come from batteries or a direct connection to your ATV battery. If you are connecting to your ATV's battery, you may want to hook it up so that you can switch off the speaker's pull when you are not using it. Often this only requires a wire that can be taken off the battery. To install the portable speaker from there, you will need to mount it to an area that is relatively flat. You can permanently mount your speakers using screws or you can zip tie it on a four wheeler on a temporary basis. In the event that you are connecting a speaker to your battery, you may want to run the wire in a way that ensures it will not be dangling while you are riding. Either way, you should always look at the owner's manual for your four wheeler and the speakers you have chosen to get a better idea of where and how the install should take place.